Cornmeal Muffins
Preparation Time: 10 mins
Cooking Time: 35 mins
Serves: makes 15
Ingredients
250g cornmeal
280g plain flour
60g sugar
3 Tbl baking powder
1 tsp salt
1 tsp pepper
3 eggs
500mls milk
¾ Cup melted butter
2 Cup grated cheese
2 Cup corn kernels
2 onions diced
Mixed fresh herbs dill, basil, parsley etc
½ Cup sundried tomatoes or roasted capsicums
2 bacon rashers – chopped (omit for vegetarian option)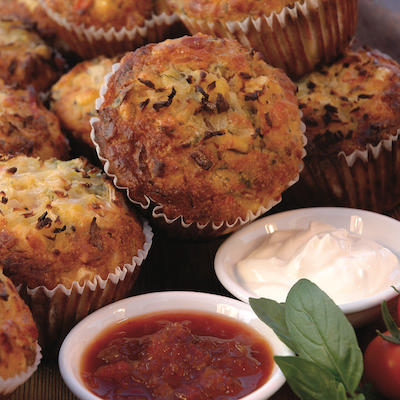 Method
Heat oven to 180 degrees Celsius. Grease or spray muffins tins.
Mix dry ingredients together. Add wet ingredients and mix well.
Cook for 30 to 35 minutes.
Allow to cool a little before removing from tin.
Serve topped with a dollop of sour cream and Matchett's Lust.
Add these ingredients to your basket ...