Fiery Prawn Curry
Preparation Time: 10 mins
Cooking Time: 20 mins
Serves: 4
Ingredients
4 Tbl vegetable oil
1 onion - diced
4 garlic cloves - chopped
1 inch square fresh ginger - grated
1 kg green prawn meat - vein removed
1 tsp Matchett's Chilli Fire - more if you are mad!
1 x 420ml tin of coconut milk
Juice of 2 lemons
1 Tbl palm or brown sugar
1½ Tbl fish sauce
Garnish:
½ bunch fresh coriander leaves - chopped
½ bunch Thai basil
1 fresh chilli - sliced into rounds
Lemon wedges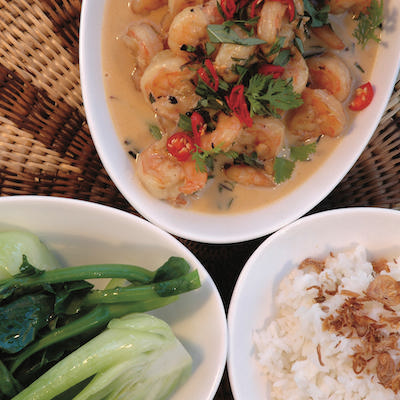 Method
In a wok, heat the oil. Add onion, garlic, and ginger.
Fry until soft. Add prawns.
Cook over a high heat until the prawns begin to turn orange.
Add Chilli Fire and toss well.
Add coconut milk, 1/2 of the lemon juice, sugar and fish sauce.
Cook until simmering.
Check the flavour. Add more Chilli Fire, sugar, fish sauce and
lemon juice if desired.
Top with garnish and serve directly to the table in the wok accompanied
with jasmine rice and steamed Asian greens.
Add these ingredients to your basket ...