Fish Papillote
Preparation Time: 5 mins
Cooking Time: 15 mins
Serves: 4
Ingredients
4 x white fleshy fish fillet such as red snapper or flathead,
bones removed (approx 300g per serve)
2 Tbl butter
A sprinkle of salt flakes
A twist of fresh ground pepper
2 cloves chopped garlic
A sprinkle of fresh chopped thyme
8 Slices of lemon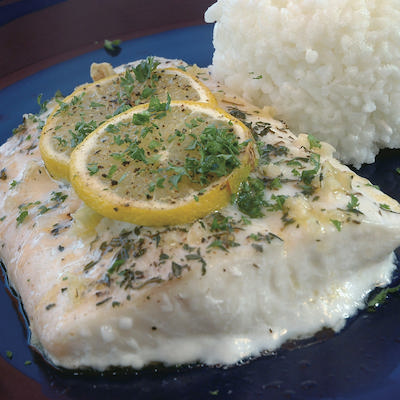 Method
Preheat oven to 180 degrees Celsius. Place fish into an ovenproof dish.
Smear butter over fish and top with remaining ingredients.
Cover with foil. Bake for about 10 - 15 minutes, until just cooked.
Serve on steamed jasmine rice drizzled with Matchett's Seduction.
Add these ingredients to your basket ...