Harissa Lamb Shanks
Preparation Time: 15 mins
Cooking Time: 90 mins
Serves: 4
Ingredients
½ Cup olive oil
1 Tbl sweet paprika
2 large onions – sliced
8 cloves garlic – chopped
1 inch square ginger –chopped
3 Tbl Chilli Sting or 2 tsp Fire
1 Tbl paprika
800g tomatoes - diced
8 lamb shanks – knuckle off
1 Cup of water
1 tsp cracked black pepper
1 tsp salt
Greek yoghurt
Matchett's Chilli Sting
Lemon wedges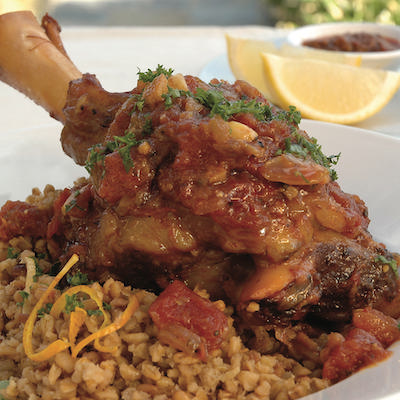 Method
Preheat oven to 180 degrees. Heat the olive oil in a frying pan.
Add the onion, garlic, and ginger.
Fry until light golden. Add the Chilli Sting and paprika and
continue to fry for a few seconds.
Add the crushed tomatoes, water, salt and pepper and cook until simmering.
Place the lamb shanks into an ovenproof dish and cover with the sauce.
Cover with a lid or foil and cook in oven for 1 1/2 hours until very tender.
Serve on top of Greenwheat Freekeh
Top shanks with Greek yoghurt, Matchett's Chilli Sting and lemon wedges.
Add these ingredients to your basket ...