Beetroot Dip
Preparation Time: 10 mins
Cooking Time: 20 mins
Serves:
Ingredients
500g fresh beetroot – peeled and
cut into 3cm chunks
75mls olive oil
2 cloves garlic – peeled
2 Tbl Matchett's Chilli Jam
1½ tsp cumin seeds
1½ tsp coriander seeds
¼ tsp salt flakes
Chives for garnish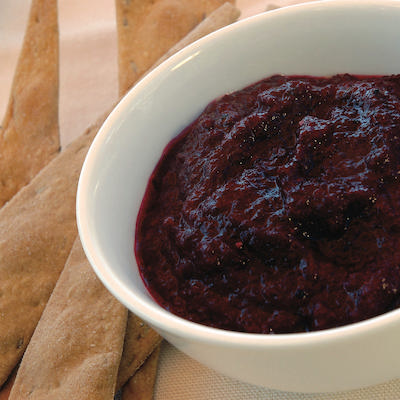 Method
Roast the beetroot in a little of the olive oil until soft. Allow to cool.
Dry roast the cumin seeds and the coriander seeds in a pan for about
1 minute until lightly browned and aromatic, then grind to a powder
with a mortar and pestle.
Place all the ingredients into a food processor and blend until very smooth.
Refrigerate until required. Transfer to a clean bowl.
Garnish with chopped chives.
Serve with Matchett's Water Crackers.
Add these ingredients to your basket ...