Chicken Marengo with Prawns
Preparation Time: 15 mins
Cooking Time: 50 mins
Serves: 6
Ingredients
¼ Cup vegetable oil
1½ kg boneless chicken thigh
½ kg large green prawn meat - deveined
2 onions – diced
8 cloves garlic – chopped
3 fresh long red cayenne chillies - chopped
2g saffron threads – soak in ¼ cup of warm water to soften
2 tsp smoked paprika
140g tomato paste
400g crushed tomatoes
4 bay leaves
1tsp salt
1tsp fresh cracked pepper
2 Cup water or chic/veg stock
4 Tbl Matchett's Chilli Jam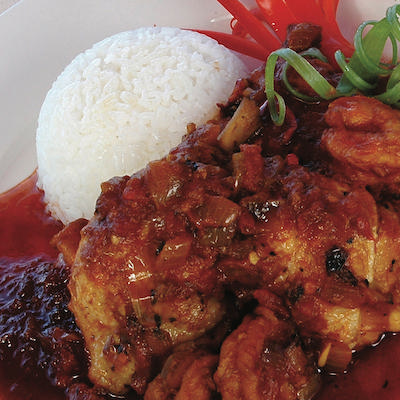 Method
Preheat oven to 180 degrees Celsius.
In a heavy pan heat the vegetable oil.
Brown off the chicken, followed by the prawns.
Place chicken and prawns into an ovenproof dish.
Fry onion, garlic and chilli until soft. Add all remaining ingredients
and bring sauce to simmering point.
Transfer to the baking dish with the chicken and prawns.
Cover the dish with a tight-fitting lid or foil.
Place into the oven and cook for about 40 minutes until the chicken is tender.
If the sauce is too thick add a little more water and adjust the seasoning.
Serve hot with rice, couscous or soft polenta.
Add these ingredients to your basket ...