Pizza with Sting
Preparation Time: 10 mins
Cooking Time: 30-40 mins
Serves: Makes 1x 12-14" pizza
Ingredients
1 large sweet potato - cut into wedges
2 red onions - cut into wedges
12 €" 14 € Pizza base
2 - 3 Tbl Matchett's Chilli Sting
100g grated Mozzarella cheese
120g sour cream or Greek yoghurt
1 long red cayenne chilli pepper - chopped
½ bunch fresh coriander leaves - chopped
Rocket leaves for garnish
Big Sissy Foods Screamin' Cream & Crocodile Candy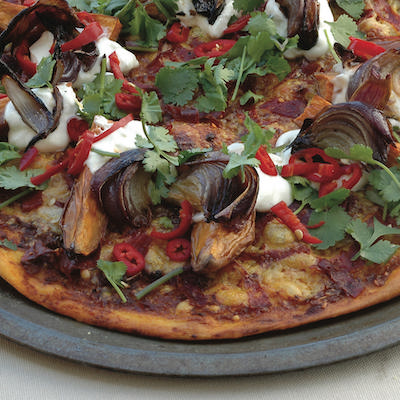 Method
Preheat oven to 190 degrees Celsius.
Toss the sweet potato and the onion in a little olive oil.
Place onto a roasting tray and cook until lightly golden.
In the meantime, spread the Sting evenly across the pizza base.
Sprinkle the Mozzarella over the top. Set aside.
Once the sweet potatoes and onion are cooked, remove them
from the oven. Cover and place in a warm area.
Place the Pizza into the oven on a low shelf and cook
for approximately 10 - 15 minutes.
Check the underside of the Pizza to make sure it is evenly golden.
Once the Pizza is cooked, cut into eight slices and top with the sweet
potato and onion wedges.
Further top with sour cream or yoghurt and sprinkle with chilli,
coriander and rocket leaves.
Alternatively, top with Big Sissy Foods Screamin' Cream & Crocodile Candy.
Serve immediately.
Add these ingredients to your basket ...
Chilli Sting